[Opinion] Bank Ki-moon: It is critical to design our Covid-19 recovery…
페이지 정보
Write

SHPP

Date

20-06-25 09:26 Hit801
본문
Our relationship with nature will ultimately decide our fate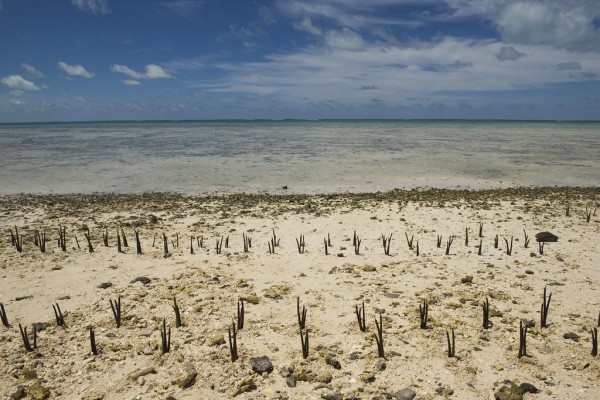 Climate change effects in the island nation of Kiribati
Heading the UN gave me a new perspective on the world. In a short time, I saw glaciers melting in Antarctica, devastating floods in Thailand and Pakistan, the 2011 tsunami in Japan and Hurricane Sandy in America. In September 2011, I met a young boy in the South Pacific island of Kiribati who could not sleep because he was worried that the rising sea would destroy his home.
I learnt that the biggest challenges humanity faces are interlinked. I saw that surviving and emerging from a crisis depends upon our ability to work together, beyond borders and national interests. And I understood that our relationship with nature will ultimately decide our fate. If we fail to keep the equilibrium, the most vulnerable will suffer first and most.
These lessons have become front of mind again as Covid-19 spread quickly around a world that is more connected than ever, yet increasingly divided and inward-looking. The pandemic has shaken our global society to its foundations and tested our ability to collaborate.
Now, world leaders are committing unprecedented funds to recovery packages. Their choices will shape our economies and societies for decades, and determine whether we breathe clean air, create a sustainable low-carbon future and possibly even survive as a species.
The current pandemic has been brutal, but the challenges ahead will be worse unless we design our recovery to address them. Air pollution has made the impact of coronavirus significantly worse and lies behind 7m deaths every year because of its links to a host of other conditions. It has many of the same root causes as climate change, which threatens our existence.
Equally, Covid-19 has shown what is possible when humanity is faced with a tangible and fast-moving threat. Air quality improved nearly instantly as a result of government lockdowns. The rapid responses and widespread compliance show we can change our behaviour if the health imperative and political mandate exist.
We know people want change. A new YouGov poll commissioned by the Clean Air Fund shows at least two-thirds of citizens in diverse locations around the world — Bulgaria, India, Great Britain, Nigeria and Poland — support more laws and enforcement to tackle air pollution. As economies are restarted, a return to toxic air would simply replace one health crisis with another.
Governments will never have a better chance to address these issues. They can structure bailouts to wean the sectors they save off fossil fuels. They can prioritise green jobs, renewable energy and clean technology. These measures would pay for themselves many times over.
There are also specific steps they can take on clean air. Leaders of some of the world's biggest cities, including London and Milan, are already repurposing city centres to use cleaner energy and technology. They are encouraging us to get out of our cars, to make more journeys on foot, by bike or — in the long term — via public transport, by investing in infrastructure that makes this possible. These ideas need to be expanded and repeated elsewhere, with backing from national governments. 
Yet, we could miss this clear opportunity. Governments in countries such as the US and China have lifted environmental restrictions during the crisis; continued relaxation or simply returning to business as usual would be disastrous.
In my country of the Republic of Korea, we are introducing a Green New Deal that seeks a new way of life after the pandemic. We want to tackle climate change and air pollution alongside other elements of the UN sustainable development goals, such as inequality and poverty, and to look beyond our borders. That is why we are increasing co-operation with Japan and China to address regional air pollution.
But these promising first steps will not be enough. In July, G20 finance ministers will meet to review their collective response to the pandemic. On September 7, the UN is organising the first International Day of Clean Air for Blue Skies. And attention is turning to the COP26 summit in 2021, which feels like our last chance. Governments must seize these opportunities to put clean air and climate justice at the heart of recovery plans, in line with the 2015 Paris climate agreement.
This will not be easy, but it can and must be done. The pandemic has taken a heavy toll, but it could be just be a taste of things to come. We owe it to ourselves and future generations to build back better.
Read original article: https://www.ft.com/content/1e63ae1f-9d1a-4d29-9979-0ab463456032