The 2017 Sunhak Peace Prize Laureate Announcement Press Conference
페이지 정보
Write

최고관리자

Date

16-12-16 17:44 Hit1,036
본문
The 2017 Sunhak Peace Prize Laureate Announcement
​Press Conference
The Sunhak Peace Prize Committee held a press conference announcing its 2017 laureates on November 28 at the JW Marriot Hotel in Washington D.C.  Dr. Gino Strada, Italian doctor (68), and Dr. Sakena Yacoobi, Afghan educator (66), have been selected as dual laureates to receive the prestigious award.
On the day of the announcement, among the various media outlets gathered to broadcast the laureates on television and newspaper, were 20 international journalists, including Korea's three main broadcasting agencies--KBS, MBC, SBS—and other major media correspondents.
Committee Chairman, Dr. Il-Sik Hong announced the laureates stating, "At this time in history, we are crossing a bridge into a momentous new era, and we are being tested on the very essence of our humanity."  He announced, "The Committee has chosen, as the 2017 laureates, Dr. Gino Strada, who provided medical and surgical care to victims of war and poverty, and refugees around the world, and Dr. Sakena Yacoobi, who presented an innovative solution for refugee resettlement through education."
Chairman Hong went on to state that "the Sunhak Committee annually presents a 'future-peace agenda' that will guide our shared human destiny toward peace."  He also mentioned that "Observing the refugee and diaspora crises occurring throughout the world over, I am reminded once again of our Founders' love for humanity, which has transcended national borders."  Dr. Hong highlighted, "The great love for humankind with which the 2017 Sunhak laureates have sought to solve these problems has historical significance in our struggle for a sustainable peace."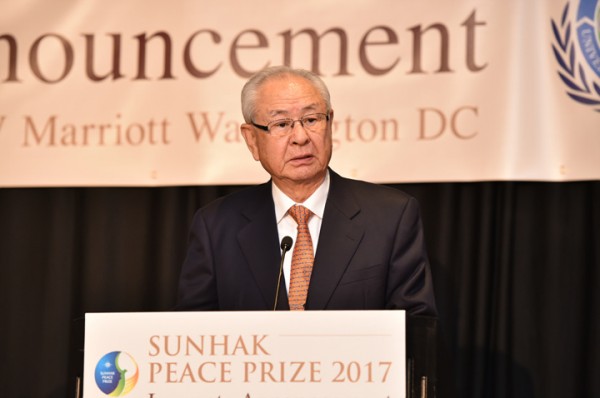 Meanwhile, a video showing covered how the laureates were chosen, and focused the viewers' attention on the seriousness of the global refugee crisis.  The Committee received a total of 225 nominations from 76 countries during this year March until June, 178 for individuals and 47 for organizations.  The global refugee crisis is the core theme for the 2017 awards, with the laureates being chosen for their remarkable strides on a global scale, and their proposal for a clear vision to solve the issue.
Dan Burton, a former member of the U.S. Republican Party, mentioned that "through the video we are shocked by the fact that 1 in every 113 people globally is now a refugee."  He received an ovation after asking those in attendance to come together, urging for "greater awareness and cooperation to solve the refugee crisis.  The US should take a more leading role in solving the issue."  
Among the 300 attendees were Larry Beasley, President of the Washington Times, Dr. Thomas Walsh, Chairman of the Sunhak Foundation, Hon. Jose de Venecia, Former Speaker of the Philippines House of Representatives, Hon. Tae-Ik Chung, President of the Korean Council on Foreign Relations, Rev. Sung-Il Cho, Director of FFWPU International Headquarters, Hon. Dan Burton, former member of the U.S. Republican Party, as well as over 70 incumbent diplomats from 56 nations worldwide.
[이 게시물은 최고관리자님에 의해 2016-12-15 11:06:09 Sunhak Peace Prize News에서 이동 됨]
[이 게시물은 최고관리자님에 의해 2016-12-15 17:15:32 Press Release에서 이동 됨]