Candidate Requirements
Nominees must be individuals or organizations who have contributed significantly to the realization of peace for people of diverse nations, races, religions, or ideologies.
In the case of individuals, the nominees in question must be presently alive.
Candidate Nominators
Nominations are submitted by more than 1,000 qualified nominators around the world, representing a wide range of fields and areas of professional expertise, and representing diverse geographical, cultural, religious, and ethnic backgrounds.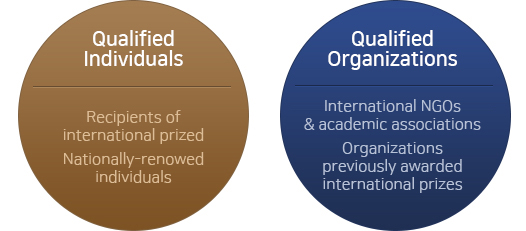 Candidate Nomination
Nominations for candidates may be done by e-mail or offline by postal mail.
Official Nomination Form
※ Please send information of candidate's achievements along with sources.
※ Documents received will not be returned. For all important documents and supporting source material, please submit copies rather than the originals.
※ The recommender may nominate one individual or group per person.

| | |
| --- | --- |
| Period | March 2021 – May 2022 |